ABOUT THE SPACE
Founded in 2015, Kitchen Sync is Winnipeg's downtown private event venue – your space to create! We cater to weddings, corporate and private special occasions and can help consult with caters, rentals and decor. We have a full professional kitchen to welcome chefs and caters, as well as plenty of refrigeration so they can walk in, set up and serve your guests.
The venue is located in the historic Bell Building and boasts the original Tyndall stone and brick walls. Giant timbers run the length of the room with large windows creating a bright and airy room.
Our years of experience and industry connections will ease the planning of your special events. Kitchen Sync has hosted chefs from New York, as well as many local talents, customized and curated parties, dinners and cooking classes for many different groups and companies from across Canada.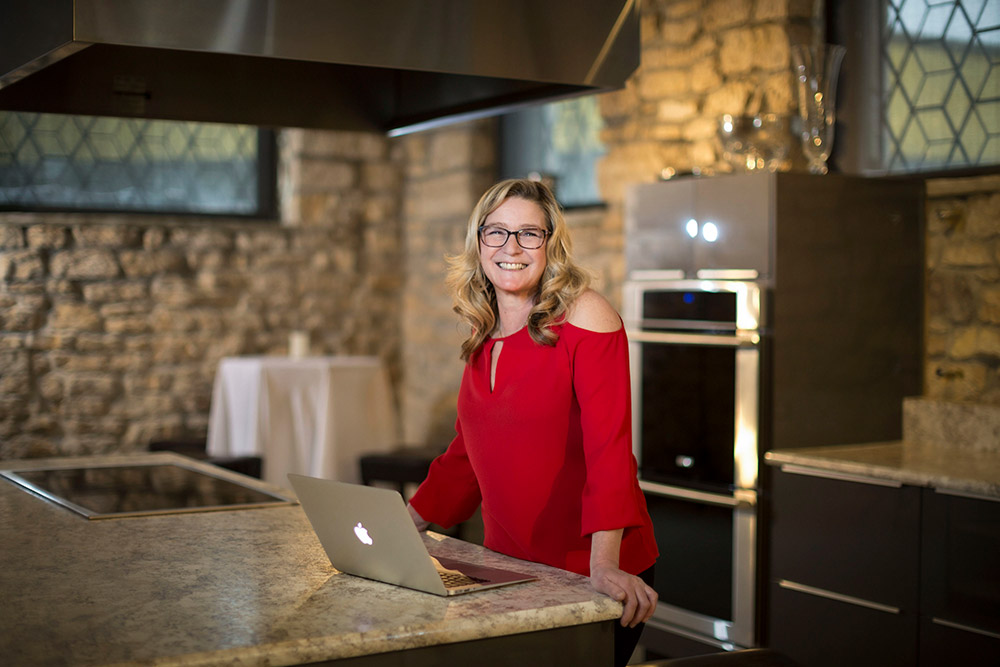 ABOUT SHEILA BENNETT
Sheila Bennett has been active in the hospitality industry for many years. Her passion is connecting people through food and wine. She built her career working at a number of creative innovative establishments. She has had experience in private restaurants, top hotel chains as well as a 16-year career in import wine sales.
Taking her experience from creating and attending events she was ready to dive in to create her own unique space in the heart of Downtown Winnipeg. Kitchen Sync realizes her vision to create a beautiful and customizable event space while also supporting the Winnipeg culinary community.
Location
Kitchen Sync is located in the lower level of the historic Bell Building, on the edge of the Exchange District. In the heart of downtown Winnipeg and surrounded by North America's largest collection of heritage buildings, our location is the perfect backdrop for your next event.
Parking and Accessibility
We have limited free parking available behind our building, but have three surrounding surface lots to accommodate larger groups. Our facility is wheelchair accessible.
Truly an amazing and unique venue. With the beautiful Sheila as host, every event is sure to be fantastic.