Need a commercial kitchen to launch your food business?
Kitchen Sync offers a professional licensed kitchen. The shared workspace is fully stocked with equipment and storage to help you scale up or launch with minimal start up overhead. Our space is perfect for those looking to scale up or launch their food business with minimal overhead.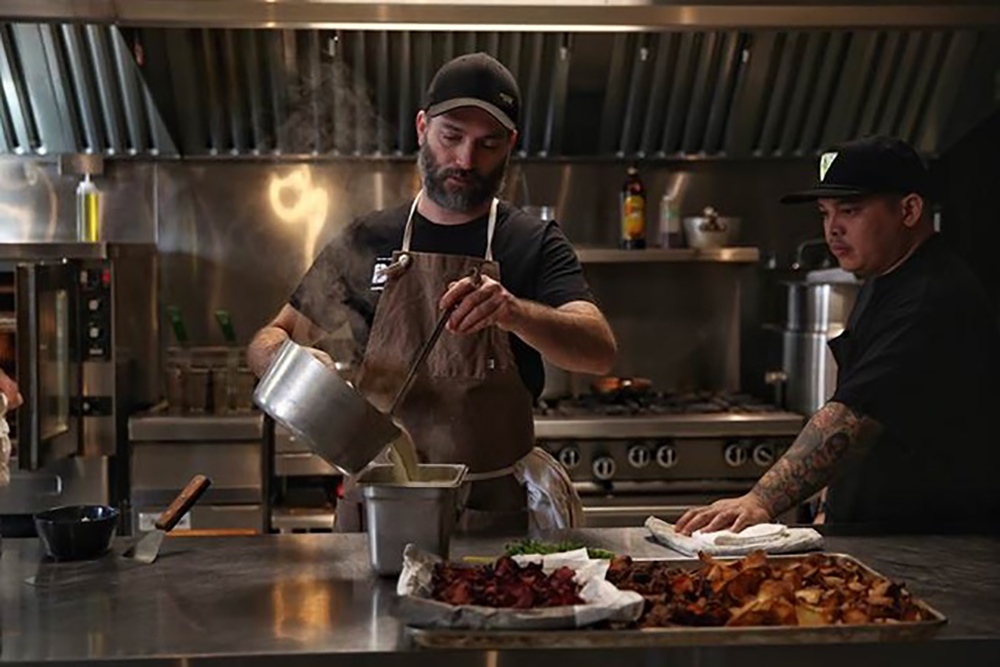 KITCHEN RENTAL PRICING
Our shared workspace offers a fully equipped commercial kitchen, designated storage space and the health and safety certifications required for provincial regulations.
Rates
Hourly rates; All groups are a maximum of 3 people

Casual use $28 per hour, minimum 3 hour booking, less than 80 hours per month

Includes 1 parking spot

Preferred rate $25 per hour minimum booking 3 hours includes dedicated storage locker, fridge space and 1 parking spot
Extra Services
Walk-in cooler space $200/monthly

Extra fridge space $100/monthly

Extra freezer space $100/monthly

Consultation/training $75/monthly

Long term bookings and storage can be arranged by contract for a minimum of 6 months
Minimum Requirements
Certificate of Insurance with $2 million liability

Food Handlers Certificate

Manitoba Health or Manitoba Agriculture Permit

Demonstrated ability to operate in a commercial kitchen

Damage deposit of $300
What do I need to bring with me?
Your knives, clothes (lots) for washing up. Any specialty equipment you require for production.
How many people can I bring?
You can bring 2 people to help with production. If you need more you can book up to 4 stations at $25 each.
Can I drop off or have my food delivered the day prior?
Yes, you can meet the delivery here of drop off. MB Health requires your food to come directly here.
Can I take my ingredients home?
Yes, you can but they have to stay there, you can not bring ingredients back and forth from home to the licensed kitchen.
Is the damage deposit refundable?
Yes, once you decide to move up or on it is refundable if there is no damage to equipment, no missing equipment and you have followed MB Health requirements. Any cleaning charges will be deducted as well.
What are the hours for production?
Kitchen Sync operates 24/7.
Can I arrange to meet clients at Kitchen Sync?
Yes, we offer meeting space for planning with clients and or trial meals. In addition to prep time it's $25 per hour.
Can I arrange a photo or video shoot?
Yes, we book both with 2 weeks notice, it's $75 per hour to use Kitchen Sync in addition to prep time.
I highly recommend Kitchen Sync. Beautiful venue and amazing food. Sheila is wonderful. We can't wait to go again. A great night with friends, food and wine.